Branches Profile
Mabuchi's core competence in packing solutions has brought the company to become a renowned packing suppliers Malaysia and Singapore company by adopting quality packing materials Malaysia and Singapore in our services. Our services are unique in a way that we provide customized packaging solutions to our customers. To us, each job is unique and specially designed packing methods to suit the items to keep it safe upon arriving to its destination.
Desiccant – Sundry II
Desiccant Sundry II
Sundry one of the desiccant agent use to prevent rust and dew formation.Sundry made from Calcium Chloride and natural materials from grain shells, representing the effective recycling of natural resources and less damage to environment.
Features
1.Excellent Moisture Absorption performance.Absorb more than 6 times compared to Silica Gel.
2.Easy use and storage.
3.Odorless & Safe to use.
4.Non toxic properties.
Characteristics
1.Environment friendly.
2. Resolves into nature after use.
Absorption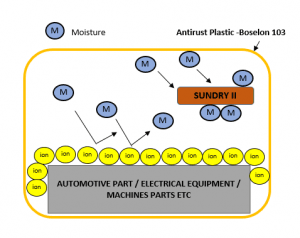 Sundry used to prevent rust especially for Transporting Automobiles part,Electrical Equipment and all other machines parts.
Sundry II vs Silica gel 
| | | |
| --- | --- | --- |
| Description | Sundry II | Silica Gel |
| Price | Expensive | Cheap |
| Quantity usage | Less quantity | More quantity |
| Adsorb Moisture level | High | Low |
| Re-use | Can not | Can |
| Usage | except food packing | include  food packaging. |
Moisture Absorption Rate between Sundry and Silica Gel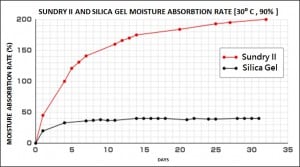 Sundry is a right preventive solution for a wide range of goods.