Branches Profile
Mabuchi's core competence in packing solutions has brought the company to become a renowned packing suppliers Malaysia and Singapore company by adopting quality packing materials Malaysia and Singapore in our services. Our services are unique in a way that we provide customized packaging solutions to our customers. To us, each job is unique and specially designed packing methods to suit the items to keep it safe upon arriving to its destination.
Paper Pallet
Paper Pallet
Paper pallets are shipping display pallet made from paperboard.
Paper shipping pallets come in corrugated fibreboard partial wood decks or engineered with laminated paperboard. Some are made of paperboard composite honeycomb.
Comparison between Paper Pallet and Wooden Pallet
| | | |
| --- | --- | --- |
| Description | Paper Pallet | Wooden Pallet |
| Price | Less | More |
| Weight | 70% lighter | Heavy |
| Load Capacity | Less than 1 tan or 500kg depend on pallet design | Able load more than 1 tan base on pallet design |
| Oversea Shipment | No need fumigation | Must fumigation |
| Recycle use | Not suitable to recycle use | Able to recycle use |
| Storage | Not suitable to storage outside warehouse in raining season | Able to storage outside |
Other benificial of Paper Pallet
* Made completely from kraft paper, paper pallets are totally recyclable.
*No hazardous gasses or chemicals used or emitted in manufacturing our pallet.
Sample Paper Pallet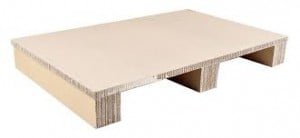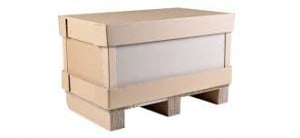 *There are many different design configurations that exist within the paper pallet market that may use glue, staples and paper cores in their assembly, although designs have been engineered from just two flat corrugated boards.
You are welcome to discuss with us if you want different design of Paper Pallet.