Established on 20 March 1996, PT. Mabuchi Indonesia is a packaging solutions company with our first operating plant in Batam, Indonesia. With more than 40 employees at present and still growing in number, Mabuchi Indonesia is a joint venture between Mabuchi in Japan and Siam Mabuchi. Throughout the years of service, Mabuchi Indonesia has expanded our business network with offices and manufacturing plants in Karawang, Indonesia. With our headquarters in Karawang, Mabuchi Indonesia is solely independent in our business operations whereby we have acquired our expertise and skills from Mabuchi in Japan.
Our company provides total packaging solutions to our customers with our innovative and cost effective packaging service ideas using materials in meeting their packaging needs. We are the specialist in packaging solutions of manufacturer and supplier of packing services and packaging materials in Indonesia bringing sophisticated packaging knowledge, technique, skill and experience such as CKD packing, industrial packing and machinery packing of supplier. Our knowledgeable and dedicated solutions team works professionally by providing sound advice in packaging solution ideas to meet each client's requirements.
Over the years, Mabuchi has earned great trusts and also build strong relationships with our customers through the delivery of our reliable and consistent services. We believe that the commitment of our service will bring greater satisfactions and support from our customers.
Name
PT. Mabuchi Indonesia
HQ
in Karawang
Share
USD 6,900,000
Establish
20 March 1996
Sales Detail
Making Steel Case, Crate, Pallet, Wooden Case
Director
2 Person
Staff
90 Person
Group Company
Mabuchi in Japan
Mabuchi Singapore
Mabuchi Package Malaysia
Mabuchi Thailand
Siam Mabuchi Co. Ltd.
Mabuchi Cambodia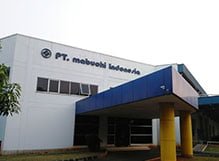 PT. Mabuchi Indonesia