Mabuchi is one of the fastest growing packaging company in Malaysia. With our expertise and skills in packaging solutions, Mabuchi has been providing packaging services to customers from various industries such as automotive, electrical and electronics, fast moving consumer goods, transportation, logistics and delivery, etc.


The first PT. MABUCHI INDONESIA Complek Cammo Industrial Park Block A-2 No.5 Batam Centre, Batam 29432, INDONESIA
Change domicile of the Company from Batam to Bekasi, West Jawa
Construction Karawang Factory in Karawang International Industrial City (KIIC)
Change domicile of the Company from Bekasi to KIIC, And Start Production Steel Products.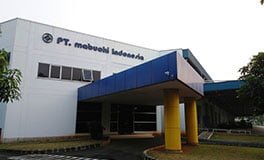 Extension of second factory in KIIC