Branches Profile
Mabuchi's core competence in packing solutions has brought the company to become a renowned packing suppliers Malaysia and Singapore company by adopting quality packing materials Malaysia and Singapore in our services. Our services are unique in a way that we provide customized packaging solutions to our customers. To us, each job is unique and specially designed packing methods to suit the items to keep it safe upon arriving to its destination.
Corrugated Carton Box Flute & Carton Box types
What is Carton fluting?
Corrugated material is comprised of three fiberboard layers; two linerboards sandwich a middle sheet that is in a wave-shaped a pattern of arches known as flutes. These flutes are anchored to the linerboard with an adhesive.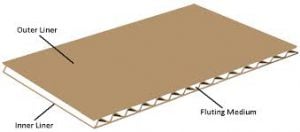 Fluting is the element of corrugated cardboard that contributes to material strength for stacking, resistance to crushing, or suitability for other uses, such as graphic reproduction. The types of fluting vary depending upon how many flutes are included per foot, and how thick the fluting is.
Corrugated box fluting comes in different sizes and varieties to be used for different applications. But generally, the larger the flute (A & B profiles) the greater the strength and cushioning. And the smaller the flute (D & E profiles) the better the printability and foldability. There is a good deal of variance across the industry in the range of flute sizes based upon the container characteristics that are desired for each application, as well.
There are five standard types of fluting:
A-Flute : A-Flute is the original fluting for corrugated boxes. With about 36 flutes per foot, it can be used for a double wall application or thick corrugated pad.
B-Flute : B-Flute is Primarily used for canned goods packaging, the B flute provides the second highest arch size at about 49 flutes per foot. Because of its good stacking strength and crushing resistance, some common uses are for food packaging, retail packaging, POP (point of purchase) displays, die cut inserts, and customized print packaging.
C-Flute : C-Flute is the most commonly used corrugated box flute. As an all-purpose flute, the C flute has about 41 flutes per foot and provides good cushioning, stacking and printing properties. Some common packaging uses include shipping cartons, master shippers and corrugated box displays.
E-Flute : E-Flute is the second most commonly used corrugated box. E flutes are an environmentally friendly substitute for green packaging compared to printed folding cartons. At about 90 flutes per foot, it is also used to print high quality direct print graphics compared to its counterparts. Common uses include retail packaging, printed corrugated box packaging, POP packaging, and those looking for eco-friendly packaging.
F-Flute : F-Flute is small, tighter flute is also an environmentally friendly replacement to folding cartons. At about 128 flutes per foot, the F flute will offer a very high-value look and provide packaging with solid structural integrity. Common uses include custom printed boxes, printed corrugated boxes, retail packaging and POP displays.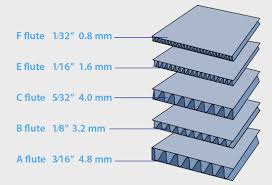 Corrugated come in different wall of construction
*Single face-One corrugated medium is glued to one flat sheet of linerboard.
*Single Wall-The corrugated medium is glued between two sheets of linerboard. Also known as Double Face.
*Double Wall-Three sheets of linerboard with two mediums in between.
*Triple Wall-Four sheets of linerboard with three mediums in between.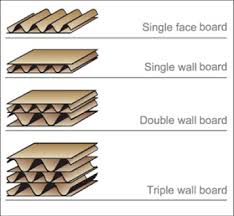 Carton box types
Corrugated boxes are designed to meet the specific needs of the product being packaged. Factors contributing to the packaging design include shipping hazards such as vibration, shock, compression, and moisture. In addition to the particular needs of the consumers and retailers, packaging engineers consider the cost restraints, specific product characteristics, logistical needs, consumer needs, and machine capabilities when designing a variety of corrugated box styles
RSC-Regular Slotted Carton   
HSC-Half Slotted Carton            
FOL-Full Over lap Slotted Carton    
Die Cut Carton                                        
One piece Folder Carton                              
It is important to decide which flutes suitable for your usage carton box.